Microblading / Permanent Makeup
Here are some of the many benefits of microblading your eyebrows.
It will save you time
It will save you money
You'll have an eyebrow blueprint
Get natural-looking results
It gives long-lasting results (lasts up to 3 years!)
Hassle-free and no upkeep
Your eyebrows are not going to turn red or blue
It doesn't hurt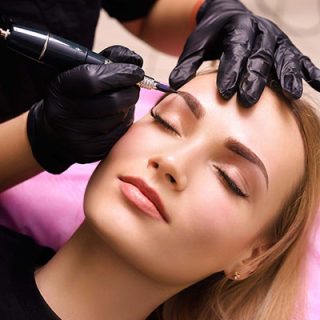 Microblading is the perfect way to shape your brow line and extra add color. It's no wonder it's the most popular permanent makeup procedure in the world these days.
Imagine waking up and leaving the house with a gorgeous made-up look without having to pull out your makeup and brushes.
Sound too good to be true? Then it's time for you to learn more about permanent make up. This tattooing technique leaves you with the eyebrows, lids, and lips you want without all the effort every morning. 
Want to know more? Keep reading to learn the best tips for making sure you get it right and to find out if you're an ideal candidate for the procedure. 
Permanent makeup eyebrows are one of the most common permanent makeup choices. The process is called microblading and it's done by using a small blade to mimic the look of hair, leaving the ink pigment behind. 
The result is well-manicured, perfectly filled-in eyebrows that don't need any attention. The microblading healing process is faster than a traditional tattoo, and you'll be able to enjoy the look almost right away. 
What to Expect at Your Microblading Procedure
On the day of your procedure, make sure that you follow instructions from our FAQ & Policies. There are some contraindications why this procedure must be postponed.
What is After the Procedure?
In order to ensure that the brows heal perfectly a minimum of two treatments are usually needed 6-10 weeks apart on average.
This treatment is considered a semi-permanent and will fade over time. Touch-ups are recommended every 2-3 years to maintain shape, color, and details.
No two pairs of eyebrows are the same. So, naturally, no two eyebrow treatments should be the same either.
Aside from providing beautiful, natural-looking enhancement, permanent eyebrow and eyeliner makeup also address specific concerns, ranging from medical conditions to convenience.
If you think that permanent make up might be right for you, talk to your dermatologist to be sure you're a good candidate. Be sure you choose the right tattoo artist for the job so you can count on the results you want.
Whether you choose microblading or something else, book your appointment today so we can help you get the beautiful look you want.
Increase your confidence and immediately change your look with our professional microblading service today!